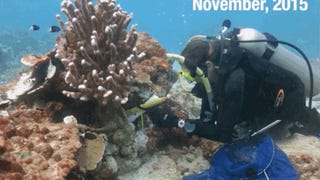 The great Niño of 2015 is finally on its way out. But before it goes, it has one final present to leave us: a giant cache of creepy coral bones littering the ocean floor, like a tiny seafaring graveyard. We'll miss you too, Niño.

Felix Salazar's macro photography of a coral reef offers a serene and colorful tour through an almost alien universe. Seen up close and in such brilliant colors, it's each to forget that these are creatures from our own planet. So head over to Salazar's website, scroll through the photos, and forget about Earth for a…
The Great Barrier Reef is 1,800 miles long and home to a quarter of the world's ocean species. So it's no wonder that marine biologists, fearing its pollution-driven demise, started freezing corals so they can preserve them for later.