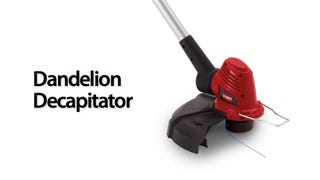 One day last spring, out whacking weeds with Popular Mechanics' veteran home editor Roy Berendsohn, it became clear that a gas-powered string trimmer has more stamina than any reasonable man has weeds to whack.
I hate cordless phones. So when Gizmodo reader ournextcontestant asked why Obama was using a corded phone instead of a cordless phone in this photo, I felt it was our duty to explain.
Logitech's ClearChat Wireless PC headset might seem unremarkable, but a quick scan of Amazon shows there aren't really any non-bluetooth wireless stereo headsets on the market. There are plenty of wireless headphones without mics, one speaker 2.4 GHz wireless headsets and corded stereo headsets. But no product has…
Logitech's ergonomically designed $100 Alto Cordless stand has three high-speed USB ports for high-powered peripherals, plus integrated wireless technology to connect to the included keyboard. As a nice touch, it folds up into a tidy rectangle for stowing or lugging around. My only beef is, why sell a wireless-enabled…
Get it? Hang up your phone? Ha! Ha! Ha! It also hangs up when you put it on a table. That's not as amusing. [Yanko Design]
Speaking of Skype phones, the only notable feature on this Panasonic KX-WP1050 Wi-Fi Skype phone would be the price. Instead of buying one Netgear and one Belkin Skype phone for the same price, you're only getting one of Philips. What justifies the exorbitant price? The "executive" carrying case? Not exactly.
We've covered many DECT-capable cordless phones and Skype phones here, whose main attraction is non-interference with the already crowded 2.4 GHz spectrum. David P. over at Boing Boing discovered that the benefits of DECT's (Digital Enhanced Cordless Telecommunications) 1.9 GHz extends to baby monitors as well, when…
Like the Fujitsu waterproof phone, Uniden's WXI477 lets you take your talk into the shower. Unlike the Fujitsu, you're going to feel like a dunce taking this out of the house, since it's just a 5.8 GHz cordless phone.
DECT seems to be all the rage these days whenever someone wants to make a cordless handset or headset, and Thompson isn't one to miss out on the boat. Like the other DECT Skype phones, this has a base station that links to your PC and the standard Skype software, which then communicates audio to and from the handset.
Get rid of all that noise and exhaust from those infernal internal combustion engines with the Newton cordless electric mower, a 48-pound lawnmower that runs for an hour on a charge. Its 15-pound battery takes 12 to 24 hours to charge up, and it lets you quietly mow the grass on a small to medium-size yard.
The LAN Cordless DUALphone does triple duty, letting you make conventional cordless phone calls, talk on Skype and check your e-mail all in one handset that has a color display. It's good for eight hours of talk and 240 hours of standby on a charge, and will be available for providers and carriers after the end of…
Auvi's PHIP100 is a VoIP-enabled cordless speaker phone system, obviously giving you VoIP capabilities as well as a webcam and 2.1 channel speakers (WELCOME TO MOVIEFONE!). Not a bad-looking design, this system also comes with a line-in connection jack for audio input and two USB ports for expansion. And of course,…