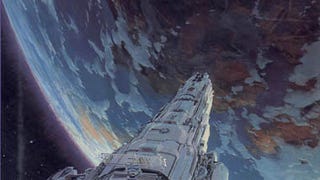 Cordwainer Smith remains a unique figure in science fiction history: a pioneer of psychological warfare who lived in China and bonded with Chinese culture. A brilliant inventor of future history whose Instrumentality universe was totally cohesive. But he also created a vision of the future as folklore.
Psychologist Robert Lindner's 1955 book The Fifty-Minute Hour details the case of a man who believed he was "living part of the time in another world—on another planet." And many people now believe this famous case study was actually Norstrilia author Paul Linebarger, aka Cordwainer Smith.
So much of science fiction's core topics intersect with war, one way or the other. Rapid social change and technological innovation both get supercharged during wartime, and some of our greatest explorers are also warriors. So it's not surprising that many of science fiction's most well-known authors served in the…
Celebrated SF author Cordwainer Smith grew up among anti-imperial revolutionaries in China, then became a master of psychological warfare. Over at PLoS blog Neurotribes, Steve Silberman has a terrific article about Smith and his cyborg masterpiece "Scanners Live In Vain."