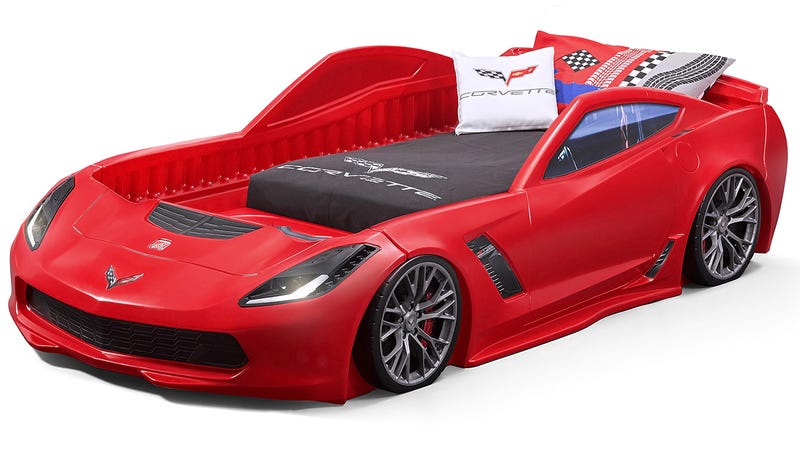 As a parent you're not supposed to live vicariously through your kids. But anyone who says that doesn't realize that Step2 now has a race car bed styled after the Corvette Z06. You'll probably never be able to afford the real thing, but there's no reason your kids should go without.
You can brag to your friends about the amazing weekend you had at the track all you want, but without a witness, you might as well be boasting about that monstrous fish that got away. So for the 2015 Chevrolet Corvette Stingray, GM is including what it calls its Performance Data Recorder which overlays telemetry,…
I'm not claiming that toy maker Step2 is deliberately guilty of age discrimination, but when they go and make a racing car bed inspired by the Corvette Z06, they had to realize it would appeal to more than just kids.
It may not sound much different that a weed-whacker, but I can assure you that if this 1/6 scale replica of the 1964 Corvette L76 327 cubic-inch V8 was put into a tiny car, it would give a Leprechaun the ride of its life. The mini four-stroke engine was fabricated from scratch by a guy named Jim Moyer, and it can hit…
If Ben Heck modded speedboats, I like to think it'd turn out similar to Malibu's Z06 Corvette Speedboat, which is Frankensteined with a 505-HP LS7 Corvette Engine. Every aspect of the boat, from the hull right down to the trailer it rides on, is influenced by the design of the Corvette. Looks like that Ferrari-powered…
We're thinking the Corvette counts as just one big gadget, and when we saw the first pictures of the 505hp Z06 model for 2007, we couldn't resist sneaking you a peek. The newest version of America's Sports Car doesn't add a whole lot of new gizmotronics, with its main addition for the 2007 model year being OnStar, a…