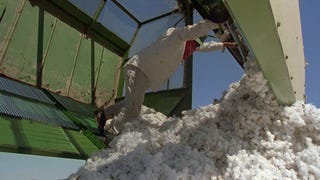 Not too many drought stories have focused on cotton. As one of the thirstiest crops, it was long abandoned by many farmers in the regions hardest hit by unprecedented water scarcity. Except for one part of Arizona, where cotton blooms defiantly, even today. Because here, the more cotton fails, the more the US pays…
"He was wearing all cotton, which is the worst fabric for cold, wet weather. The weather just got the best of him," reads an official statement by Alaska State Troopers about the death of a hiker there in 2005. This is how and why cotton can kill you.

The largest companies consume a shockingly huge amount of the world's natural resources. Ikea, for instance, uses 17.8 million cubic yards of wood a year. When it comes to cotton, there's VF Corp., a relatively unknown corporation that owns some of the best-known clothing brands in the world.
The debate about widespread use of genetically modified crops is still contentious. On one hand, you have the strong-arm tactics from the likes of the Monsanto corporation. On the other, there are stories like this. By using a special form of genetically modified cotton, smallhold farmers in India have been able to…
If you compare a modern cotton crop with one grown 1,600 years ago, the DNA of the two look almost nothing alike. It's the first known example in domesticated crops of a supercharged evolutionary phenomenon known as punctuated equilibrium.
Long before Gore-Tex or Patagonia's H2No, people kept the rain off their backs with the most obvious of repellants: oil. It was a trick gleaned from mariners in the 1500s. Sails slicked with grease and oil better navigated nasty storms by beating back water. Between then and now, fabric impregnated with various oils…