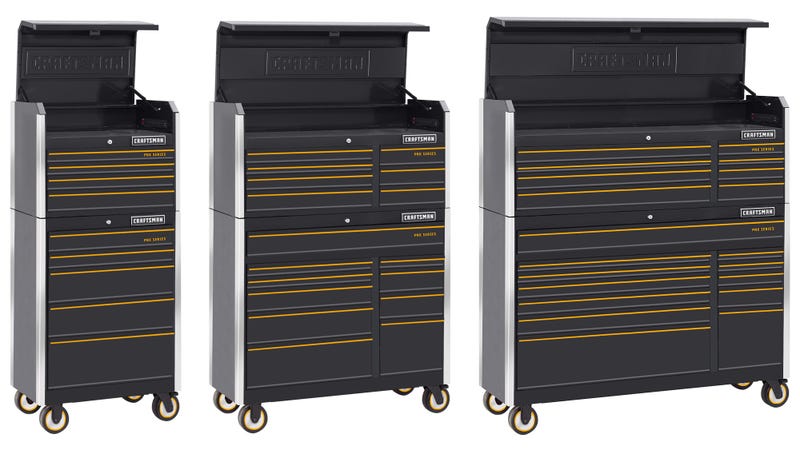 Tools are expensive, but so is having to replace your rolling tool chest, because you misplaced its key in your workshop and had to physically cut the lock open. So Craftsman's new Pro Series storage units feature Bluetooth-connected locks that can be opened and secured using an app—just don't lose your smartphone.
The claw hammer's design has gone mostly unchanged for over 500 years, but Craftsman believes it's finally time for an upgrade. The introduction of a pivoting claw on its new Flex Claw Hammer lets you maximize your leverage when removing nails or prying boards at awkward angles.

Even woodworkers celebrate Star Wars day. For Frank Howarth, the project was obvious: construct a wooden Death Star.
In Fallout lore, Deathclaws were originally replacement troops in the Great War. They're huge, scaly, and fast, and terrifying. This clay model from Sculpture_Geek is so realistic, it looks about ready to jump off its stand and headbutt you.
Craftsman is eschewing the traditional bright red paint job of its rolling toolboxes for a stark white finish that's actually far more functional. The white paint used on its Limited Edition rolling eight-drawer tool chest is dry erase-friendly, so you can label the drawers as per what's inside, take notes, or make…
We all need a good wrench to keep around the house, but we don't necessarily need a whole toolbox full of them. In this case, the Craftsman Figure Eight Wrench might be the magic solution.
Yes, that shiny Bose dock does look out of place in your workshop. But you know what would look awesome? A homebuilt blaster made out of a shiny red toolbox. This video shows you how to do it.
Gone are the days when a rolling toolchest only held tools. At CES Craftsman (which really should be updated to Craftsperson) unveiled its new Contour Powered Series Tool Storage that adds a charging station and a Bluetooth connected sound system.
Craftsman thought they had finally cornered the lazy-ass market with their 12V, lithium-rechargeable Hammerhead Auto-Hammer, but they made one fatal mistake: We're way too unindustrious to build anything with or without electronic gizmos to back us up. Still, we can appreciate the design as this miniature jackhammer…