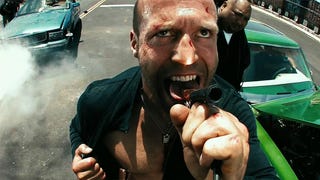 This Automata iPhone Dock by Murtaza Lakdawala is clever and useful, a combination rarely found in DIY projects. All you have to do is crank and the dock turns from vertical to horizontal.
As you can probably guess from their movies, Crank: High Voltage directors Mark Neveldine and Brian Taylor have sort of a different filmmaking philosophy that's as dangerous and awesome as what they produce.
The number one question on everyone's mind with Crank 2 is, How the heck is Chev still alive and kicking? This trailer lays it all on the line.
The original Eco Player was a wind-up PMP that offered 40 minutes of music per one minute of cranking. It was chunkier than a nano, but it also wasn't gonna run out of juice in the Himalayas, either. The new Eco Media Revolution is the sequel, a 4GB A/V player that also packs an SD card reader, FM radio and can charge…
Here's the first picture of Gerard Butler from Game, the movie about prisoners being forced to play a deadly game to the death, while they're controlled by spoiled teenagers. He looks every bit the psycho killing machine, dealing out death and destruction at the whim of his rich online controller. Writer/directors…
Apparently, the only thing crazier than Crank 2: High Voltage's plot (Jason Statham survives falling a thousand stories from a helicopter, thanks to his super adrenaline heart, which is stolen by a really old Chinese dude, and his mechanical replacement needs to be constantly zapped, hence the awesome title) is the…