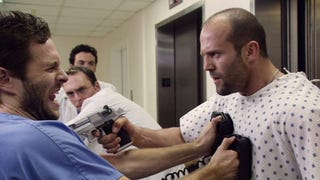 As you can probably guess from their movies, Crank: High Voltage directors Mark Neveldine and Brian Taylor have sort of a different filmmaking philosophy that's as dangerous and awesome as what they produce.
Chev Chelios is back, and we couldn't be happier. We're looking forward to Crank 2's insane antics, especially its 1,000 ways of torturing Jason Statham while keeping him sexy. New pics await you, below.
The number one question on everyone's mind with Crank 2 is, How the heck is Chev still alive and kicking? This trailer lays it all on the line.
Click to viewWhy is Jason Statham so angry in this new Crank 2: High Voltage set picture? Probably because an evil mobster cut out his heart and replaced it with a machine, and now he has to shock himself every few minutes. "High voltage is an understatement," he said about the movie. "They locked themselves in a room…
On the heels of Iron Man's radical chest surgery, Jason Statham sports a huge-ass incision down the front of his chest, plus bloodied scratches, on the set of Crank 2, which is filming in Malibu. An evil Chinese mobster has stolen Chev Chelios' heart. And no, not in the "love that dare not speak its name" kind of way.…
Apparently, the only thing crazier than Crank 2: High Voltage's plot (Jason Statham survives falling a thousand stories from a helicopter, thanks to his super adrenaline heart, which is stolen by a really old Chinese dude, and his mechanical replacement needs to be constantly zapped, hence the awesome title) is the…
Crank 2 picks up the "Jason Statham must keep his adrenaline up or die" premise of the original Crank, and adds a lunacy factor of 100. In the sequel to the Speed clone, Statham's "nearly indestructible" heart has been replaced with a battery-powered artificial ticker, which he has to keep zapping with electricity, or…