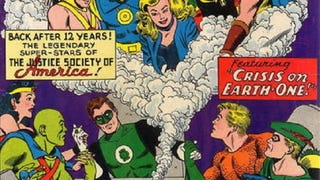 So last time, we examined the crossovers in the Golden Age between National Comics and All-American Comics before they were merged to create, essentially, DC Comics. (They wouldn't officially call themselves "DC Comics" until 1977. Before that, they would brand their comics as "A Superman DC Production" or simply "A…
A new nonprofit called UAViators is promising to offer experienced drone pilots a place to sign up for humanitarian missions where their aircraft can do some good. Pretty soon you might be showing the world how drones can save lives, not just take them!
When the global financial markets began to collapse in 2007, everybody turned on the banks and bankers — and they haven't stopped since. But one of the culprits was a humble piece of mathematics: the Black-Scholes equation.
Let's hope this is another radiation level misread, but it doesn't seem likely this time: "The operator of Japan's crippled nuclear power plant said on Tuesday it had found water with 5 million times the legal limit of radioactivity inside a reactor as it struggles for a fourth week to contain the world's biggest…
As if we didn't have enough with the stock market going down in flames on its own, computers have decided to screw them a little bit more and make everyone go "WTF" for a few minutes this morning. After dropping around two hundred gazillion points yesterday, today the Dow Jones industrials saw another drop of 700…