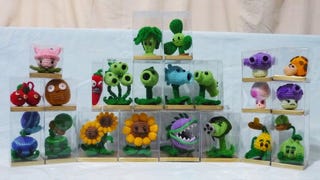 If you want to act out the ages old battle of violent plants and cartoon zombies in your own yard, Komang Darmiani is here to help. Darmiani crochets dolls of Plants vs. Zombies' goofy game creatures.
We can't promise that this crocheted face mask by Etsy seller Rose Pope will make you any easier to understand than Bane was in The Dark Knight Rises, but it certainly looks a good deal more comfortable to wear. Pope is selling these masks for £60, but due to high demand, there's a waiting list for this cold-weather…
Argentinian architect Ciro Najle has spent the past several years designing more efficient fog collectors, vast nets that allow people in arid regions to gather water from moisture in the air. And recently, he worked with local crafters to translate the complex fractal mathematics of cumulous clouds into crochet. The…
If you've never wanted to learn how to crochet, this will make you want to start. Who knew the Android robot would be even cuter in crochet form? You can make one following these complete instructions or buy one for $25.
Start your infant off worshiping the Old Ones early, with this handcrafted Cthulhu baby blanket — complete with Velcro tentacles, to keep other terror-inducing toys from slipping away. [Craftster via Neatorama]
Are you one of those people who has to bang on the Rock Band drums as hard as humanly possible, leaving yourself open to a possible eviction notice? Here's a $40 purchaseable custom-made Rock Band drum kit crochet cosy set, made just for softening your blows and keeping you on your lease. All four are color-matched to…
Right now it's a bit hot for one of these, but we salute Lady Linoleum, who made this Darth Vader helmet out of eight Guinness cans and some black wool.
[Monster Crochet via Craftzine]