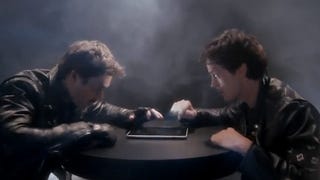 Just after we had finally stopped giggling at iBuddy, Steve Young Football doubled back with their second spot-on parody ad: Crossfire! If you really want your mind to be blown watch it and the original at the same time. [SteveYoungFootball]
This seems to violate every fanboy code ever written across the hallowed halls of the gaming internet, but if you must use your wireless PS3 controllers to play Xbox 360 games, this is for you.
Lucid's HYDRA GPU pairing technology could soon allow PC builders to incorporate multiple video cards that - hear this, ATI and Nvidia - don't have to be identical. What this potentially means, among other things, is that gamers could leverage old hardware instead of just sadly setting it aside, though paired cards…
One of the best arguments for building your own PCs is that you make the decisions regarding parts, which means you don't have to scrap the whole system or buy sub-standard hardware from the manufacturer when it is time to upgrade. This is especially true for gaming rigs. Dell, one of the biggest offenders when it…
This is the new Shuttle SDXi and although it's a variation of the XPC, it's also one BMF. It comes loaded for speed with a 2.4GHz Intel Core 2 Duo E6600, 2 GBytes Crucial Ballistix RAM and a 10.000rpm Western Digital Raptor hard drive. But more importantly, the painted flames on the sides are guaranteed to make it run…
So if the guys at AppleInsider are on the money, ATI's abnormally long X2800XT could be the graphics card to power Apple's rumored next gen Mac Pros. The red giant will feature 1GB of GDDR4 memory clocked at 2GHz while the card's core will come in at 800MHz. Basically that means it has the potential to eat Nvidia's…
Sapphire scored some major bragging points this morning by demoing a dual-GPU Radeon X1950 Pro board it's calling, the Godfather. The card runs on a single x16 PCI-Express slot and provides the kind of performance you'd get from running two X1950 cards in Crossfire mode. What's interesting about the Godfather,…
Aimed at people who want great graphics performance without having to spend their entire month's rent on a card—and then spend next month's rent on his twin brother. Starting at $199, the X1950 has ATI's CrossFire technology so you can enable CrossFire without using an actual CrossFire Edition card.