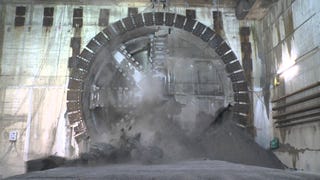 After three years of non-stop digging, the tunnels for Crossrail, London's new subway system, are finally complete. And while psasengers won't be running through the tunnels for another three years, Transport for London has sent down a bunch of drones and timelapse cameras to give us a much better feel for what's been…
The Crossrail project that's digging London a new subway system is nearly finished — which means there's a bunch of freshly-dug tunnels lying there, devoid of trains and just begging for a drone to fly through. Thankfully, the BBC was on hand with a spare quadrotor or two.
Oblivious to the people sleeping and eating on the surface, subterranean London is undergoing one of the biggest construction projects the city's ever seen — Crossrail, a new high-speed subway line traversing the capital. New photos released from the build put all that in perspective.
In today's Observer, architecture editor Rowan Moore explores Europe's largest infrastructure project: London's new Crossrail line. Moore explains that, in addition to such factors as cost, miles, tons of dirt moved, and other construction superlatives, Crossrail also "claims to be the largest archaeological site in…