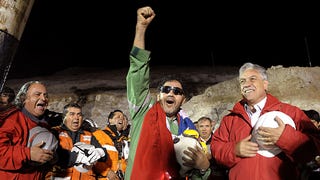 In addition to Japanese space underwear, Oakley sunglasses and $10,000 apiece from a local businessperson, all 33 Chilean miners will receive new iPods, courtesy of Apple. Now this is really the feel good news story of the year.
Click to viewWell this is pretty sick. Residents in Obion County, Tennessee have to pay an annual fee of $75 for fire department service. The Cranick family didn't pay, so firefighters stood around and watched their house burn to the ground.
The New York Times has an interesting report on Russian authorities' newest tactic for silencing dissenting groups: claiming that they're using pirated Microsoft software and confiscating all their computers. What's worse is that Microsoft hasn't stopped them from doing it.
Celebrities use Twitter. Politicians use Twitter. And sometimes those two worlds hilariously collide. Observe: Snooki tweets about being stuck in traffic in Newark; the mayor of Newark immediately threatens to fine her for texting while driving. LOL. [Twitter]
There are 47 countries with troops currently stationed in Afghanistan, and that means 47 different pouch-sized meals "intended not just to nourish but also to remind the soldier of home." Here are a few of the most impressive:
Click to viewYesterday afternoon, "Skyscraper Man" Dan Goodwin, also known as Spider Dan, climbed the 58-story Millennium Tower in San Francisco to raise awareness for terrorism and cancer. Spider Dan's means of conveyance: suction cups, of course.
"Traditional prison," writes Graeme Wood in this month's Atlantic, "has become more or less synonymous with failed prison." One radical solution: scale back traditional prisons in favor of sophisticated monitoring devices. And it's actually not as radical as it sounds.
Whether you think it's cool and futuristic or gross and immoral, cloning can yield leaner, healthier livestock. And the Times reports that some cloned meat and dairy products are already thought to be lining Old World supermarket shelves.