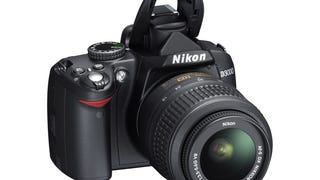 Nikon's barrel-bottom D3000 actually isn't simply a neutered D5000 with its video nuts ripped out: It's got a new 10-megapixel sensor, a fixed (but bigger) 3-inch display, and an edumacational guide menu for first-time shooters.
Here's the latest shot of the Nikon D300S. (Spoiler: It looks like a typical dSLR but with mic holes). According to Nikon Rumors, you can expect to hear more next week. [Nikon Rumors]
Nikon's 2009 AND 2010 roadmap may have been leaked on Grafika, detailing the upcoming bodies and lenses the company is working on.