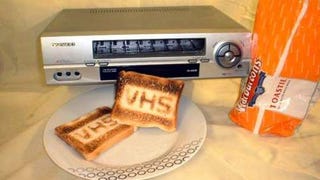 There are mods and there are Mods. And the VHS Toaster definitely fits into the capitalized category. (Read on for video.)
Folding screens (that occasionally useful piece of furniture, and classic movie prop) get a dab of 21st Century tech with the DID-FS from Daewoo. The old-fashioned wooden frame is there, but supplemented by four LCD widescreens, mounted vertically. That leaves you free to choose what pictures you're using to break up…
Today at IFA, Daewoo tried to make its unexpected foray in the Blu-ray market count for something by launching the first Profile 2.0 Blu-ray player, the DBP-1000. Basically Profile 2.0 means it supports all of 1.1's specs (like picture-in-picture) and adds web functionality (aka BD-Live). More mundanely, it supports…
The new Daewoo DPC-8099PD-I portable DVD/iPod player sports an 8-inch LCD and integrated speakers. You can either dock your iPod, or play DVDs, VCDs and CDs on the device, including any CD-R/RWs. There's also a USB port and card reader, so any thumb drives or SD/MMC cards will work just fine too. That's a lot of…
This is the latest kitchen gadget from Daewoo. It is a microwave that has both a front door and back door. It goes both ways ... like a bisexual (sorry, had to fit that Family Guy joke in somewhere). This is probably best used in kitchens that have middle islands or barriers that can be accessed from both sides. It…
Daewoo announced its voice-activated microwave oven, a good listener in the kitchen which understands anyone who talks to it. That is, as long as you tell it one of its 40 voice commands it's able to recognize. You just tell it what you'd like to cook, and it goes on its merry way, nuking it with 95% accuracy.
Daewoo Lucoms apparently decided to get into the ultra-mobile PC (UMPC) game, shipping its handsomely-styled Solo M1 which has a 7-inch touchscreen, 1.3-megapixel video camera and a DMB TV tuner for those Asians fortunate enough to have access to such signals. It's powered by an Intel Celeron 900 processor.
Looks like more than one manufacturer can play the big honking DMB antenna game. This UMPC by Daewoo's computer arm, Lucoms, looks pretty standard and will be available in Korea in May.