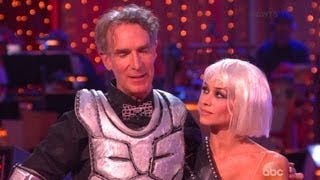 Bill Nye, who tore 80% of his quadricep last week, was told not to participate in last night's Dancing with the Stars. But he did anyway, performing a Daft Punk-inspired robot dance with Tyne Stecklein that required him to move his injured leg as little as possible. The duo won't be returning, but they left the stage…
As prophesied, Bill Nye the Science Guy had his inaugural dance on Dancing with the Stars, a chacha set to — what else? — the Weird Science theme, inside a mad scientist's laboratory. Nye was somehow surprisingly good but totally awkward at the same time, but he didn't get booted off, so the experiment will continue…
Oh, Woz. Last night on Dancing with the Stars, our injured hero took to the stage to perform a samba, despite his pulled hamstring and fractured foot. The judges were not impressed.
MAN DOWN! There's no conclusive data to go along with this photo of Woz leaving a hospital with a leg brace. But let me offer some theories. UPDATED WITH DATA
And so it has come to pass: Steve Wozniak, gussied up and smiling like maniac, danced on national television. For like a minute and a half! Here's how it went:
Oh, Woz. I want to tease you, but deep down I've got to respect you for doing whatever the hell you want and not caring what anybody thinks. Dance your heart out, Woz.
Steve Wozniak, Apple co-founder, Segway star, famed Tony Manero impersonator, and President of the Patrick Swayze Fan Club, will be one of the 13 competitors of ABC's Dancing with the Stars, including Denise Richards: