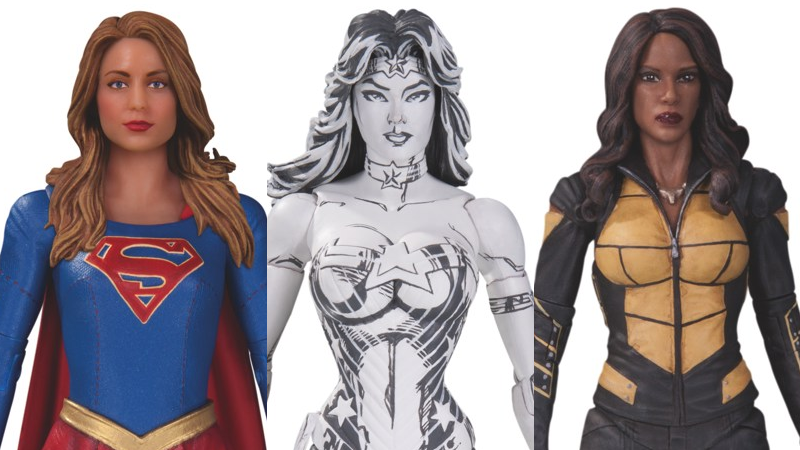 Next January, Melissa Benoist's Supergirl finally gets the action figure she deserves, and she's joined by a fellow CW heroine, and a really unique take on Wonder Woman. May god have mercy on your wallets.
Toy Fair is always a wonderful time of year for comics fans, a chance to see the superhero merchandise that will drain your wallet (alongside what your weekly comics subscription does to it already). DC is no exception, and their slate of new toys this year is amazing—including a Batwing the size of your torso.

You wouldn't think that a six pack of repainted Batman action figures had a tumultuous history, but here we are. Early last year, DC almost released this collection of toys based on one of the most infamously absurd covers of Detective Comics—but the set lost out on a fan poll, dooming it to non-existence... until now.
I'm a big fan of DC's "Designer Series" figures, where the artstyle of a particular DC artist is painstakingly recreated on a poseable action figure. But this latest figure, based on the art of Batman: Hush artist Jim Lee, takes that design ethos to its most incredible extreme.
Bruce Timm's latest entry into the DCAU, Justice League: Gods and Monsters, features a pretty radical new version of DC Comic's trinity. But they aren't just coming to animation — the new iterations of Wonder Woman, Superman and Batman are also getting some lovely Toys from DC Collectibles.
We've all got a soft spot for the Tumbler that Batman drove in the Christopher Nolan films, even the Batmobile from Tim Burton's take on the caped crusader was memorable. But nothing will ever top the sleek, art deco-inspired Batmobile from Batman: The Animated Series that many of us remember from our childhoods. So…