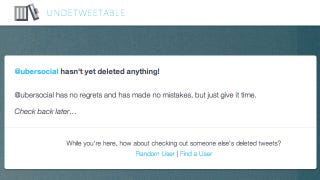 Undetweetable lets you view deleted tweets of other Twitter users. It's part creepy, part fascinating and definitely a Twitter service you'll want to take a closer look at.
When you're listing cool scenes that were in movie trailers, but not in the actual movie, the Iron Man 2 scene where Pepper kisses Tony's helmet and tosses it away, and he says "You complete me," would be up there.
The infamous cut scene that could have saved Zack Snyder's Watchmen movie from being labeled "beautiful but soulless" has been released online. Featuring the original Nite Owl and Sally Jupiter, this intense moment deserved a place in the theatrical cut.