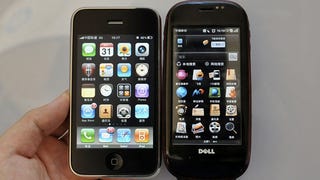 On its own it's a broad, vague promise, but Michael Dell's confirmation that the Dell Android phone will be coming to the US lends a little credence to rumors of an AT&T pairing, and some sparing hardware specifics.
We heard rumors this week that Dell's Mini 3i Android phone could come to the U.S, and now the Wall Street Journal says it's AT&T who asked Dell to tweak the phone—and the result may arrive next year.
Chinese site Sina has snapped a ton of clear photos of the Dell Mini 3i, their China-only Android-based smartphone. It looks like a genetic experiment between the Palm Pre and the iPhone.
So Dell's made-for China Mobile Mini3i is confirmed. But it's no smartphone. Apparent hands-on reports suggest it's a 2G device, with no 3G or Wi-Fi. However, it does have that 3.5-inch touchscreen and Micro SD card slot we heard about.