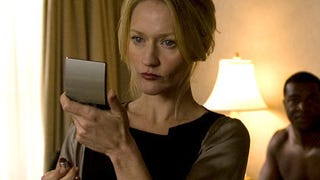 One thing Caprica will have in common with its parent show, Battlestar Galactica: Gnarly, uncompromising characters who'll make choices you won't like. We talked to star Paula Malcomson and producer David Eick about the bad mother who birthed the Cylons.
When the Battlestar Galactica prequel Caprica hired Desperate Housewives veteran Kevin Murphy as a producer last month, we hoped for the best. But now Murphy is reportedly replacing BSG's Jane Espenson as Caprica's showrunner. Update: Espenson explains the switch.
It's the crossover you never thought you'd see, as Lost's Oceanic Airlines is about to suffer another publicity disaster... when a second plane crash-lands in the middle of ABC's Desperate Housewives.
ABC launched its online video service earlier this month and in just two weeks, the shows have racked up 3 million downloads of four of its most popular programs, including Desperate Housewives and Lost. CEO Bob Geiger said ABC is considering options for expanding the service, and added that the company plans to…