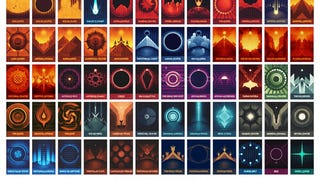 Ron Guyatt started his Solar System travel posters project a few years ago with locations on Mars, and he has since branched out to create a master work highlighting the best our Solar System has to offer.
The coin-operated kiddie ride. Once the delight of children, now they are increasingly relegated to nostalgic memory. As they should be. Everyone remembers the sheer pleasure you got as a wee child, when your parents handed you a quarter, and you were able to climb aboard and set off in a grand adventure.…
The fakes just keep on coming. And frankly it's hard to keep up with all the internet-fueled deception. Today we're taking a look at a few more dubious images that you may have seen floating around the web recently. Punking Putin? Airplane selfies? Rocket to Uranus? Fake, fake, and definitely fake.
You remind me of the babe. You know, the babe with the power. I assume that's why I was inspired to round up some of the best fan art on the web inspired by Jim Henson's 1986 fantasy movie, and starring a young Jennifer Connelly, a perfectly cast David Bowie, and an intimidating bulge in Bowie's tights.
This week's Focus is on famed cover painter, Alan Gutierrez. "Capturing the romance of space exploration" is how he defines his work, and that's a perfect description. Alan's work has been featured on the covers of magazines, books, games, and on display in galleries. His work even appeared many years ago here on io9.
From the Deviantart gallery of Meghan Murphy comes the most evil of all Dalek plans: Doctor Who Cosplay. Seriously, are there no limits to their machinations?
Saw this posted on Deviantart today by Caanantheartboy. The inclusion of Simon's cat sells it for me. I think I recognize ten of the cats.
DeviantArtist DrFaustusAU has done many a Dr. Seuss-style covers for such non-Seussical works as H.P. Lovecraft, Silent Hll and more (as we've shown you). But, while awesome, none of them approach the glory of this cover for Dr. Seuss' The Evil Dead Are in my Shed! Now all I want to do for the rest of the day is…