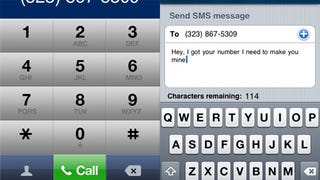 Google Voice, the very cool invite-only calling wrapper that used to be called Grand Central, can now be controlled directly from the iPhone with the GV Mobile app. It's pretty fantastic.
Google Voice, the recent reincarnation of GrandCentral that gives you voicemail transcription, call control and so much more, is about to hit iPhones by way of an app.
Apple's just about finished rolling out Skype for iPhone, and now US residents can go download the VoIP app for themselves.
If you really want to screw with someone, put this Wrong Number Generator on their landline. When your victim (wife) tries to make a call, it'll screw up some digits and randomly dial someone. Better yet, it only does this 75% of the time, meaning that it'll let them dial the right number 25% of the time—which allows…
The ease of use iPhone integration that allows you to dial numbers, look up addresses and send emails directly from links in Safari may actually be the iPhone's downfall. By formatting a "dial" link incorrectly so that the webpage shows one number, but the actual number being dialed is something else, exploiters can…
Just when we thought the LG Breathalyzer cellphone couldn't be more useless, they go an introduce this anti-drunk dialing feature. The phone can be set to block certain people in the book, say, your ex, your boss, and your pastor, from being dialed when the phone detects booze on your breath.