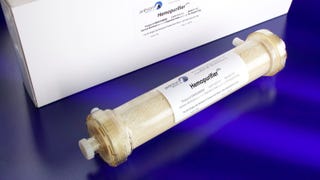 Who needs gigantic dialysis machines? The first portable blood filter has just been approved for testing on humans, and it's practically pocket-sized.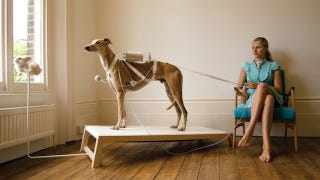 Designers Revital Cohen and Tuur Van Balen use both real and fictional biotechnology to explore the connection between the natural and the man-made, and invite questions about the impact of biotechnology. One of their projects, Life Support, imagines a world in which dogs and sheep take the role of life-saving medical…
In John Williams' Paraphernalia, Atari Withers seems to be living the eight-year-old dream. Wherever he goes, he's followed by his robot pal. But even though the robot cleans his rooms and fixes his toys, Atari resents his mechanical companion. As this short continues, however, we learn that Atari's relationship…
PETA and PETA loving people, chill. It's not real. Well, the animals could be real but the sheep isn't really being used as a dialysis machine. Okay. The man and sheep setup is actually part of an art piece by Revital Cohen called 'Life Support'. It examines whether we could use animals as medical devices.
Sometimes it's hard to remember that inkjet printers are good for anything other than ripping you off, but news today from HP's own intellectual property czar may change that: the technology that regulates the precise mixture of pigments down to the last picoliter will soon make home kidney dialysis machines more…
Using animals to grow human body parts has been done, but how about using a live sheep for dialysis? The idea comes from one design student Revital Cohen. The project she's calling "Life Support" seeks to use a sheep whose genome has been spliced with a human to produce human blood. The transgenic sheep then becomes…