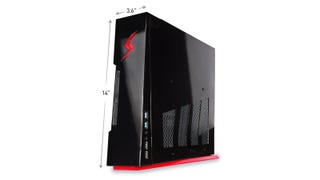 Far too many gaming PCs are hulking beasts. They don't call em "towers" for nothing. Digital Storm is trying to fight that chunky, space-stealing trend with its new Bolt PC. Billed as the world's thinnest, Bolt's form is certainly slender, but it doesn't want for more under the hood.
For anyone looking to dive into the world of 3D gaming head first, Digital Storm's 3D Vision Surround BlackOPS package is a fine place to start. For $2800, you get the BlackOPS Assassin and three 3D-ready, 1080p Asus displays.
Digital Storm's superpowered BlackOPS PC line added an Assassin this week. It's "the industry's most vastly superior vertically cooled" rig around, and it still looks like it could power the Death Star.