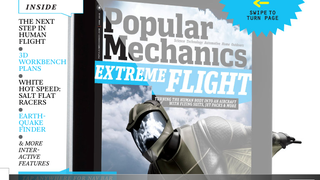 The latest big magazine iPad app is here: Popular Mechanics. It's very possibly the best. Though for now, it's a glorified beta test.
Apple priced digital downloads lower than CDs. Amazon said a digital book should be cheaper than a paper one. But for the time being, virtual magazines will cost a pretty penny, says Fortune.
Though they could've fooled me, Barnes & Noble apparently isn't content to let ebooks and digital mags be a two-horse race between Amazon and Apple. They just made a big hire in Jonathan Shar, from Time, who's going to be running their "Digital Newsstand and Emerging Content, Barnes & Noble.com" division. Though that…
The digital magazine battle royale has gone up a notch today, with the publishers of Popular Science magazine creating this beautifully graceful concept. Game on, Wired and Sports Illustrated, game on.
Normally the closure of two bridal magazines, a dining magazine and a mom magazine wouldn't be notable; except that this time their publisher, Conde Nast, notes that they're going to focus on digital distribution instead.