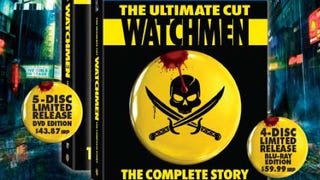 Watchmen: The Ultimate Cut, arrives none too soon. In fact, kinda late (11/3). If you already bought the director's cut on Blu-ray, $60 for a 4-disc set, just to see the Black Freighter "woven" in, may seem steep. [Warner]
While McG's Terminator Salvation may have broken hearts and failed at the box office when it was released in theaters in May, disappointed fans may want to check out the DVD anyway: It's the R-rated version we were originally promised.
Zack Snyder's uncut version of Watchmen, which contains some pretty important scenes not in the theater release, is getting its own big-screen exposure.