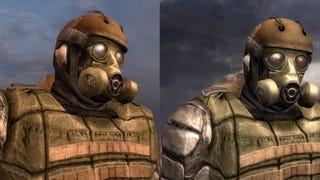 Like with the jump from DirectX 9 to DirectX 10, you'll have to really concentrate hard to see what's changed between the two versions. If you can even really tell which version is which.
Today Asus rolled out the world's first EN8800GT graphics card with 1GB of Qimonda memory. The card is designed to provide optimum DirectX 10 gaming and multimedia playback performance even at the highest resolutions and quality settings. The unit also utilizes an integrated SmartDoctor feature, allowing users to…
Those aluminum and glass iMacs revealed yesterday actually have DirectX 10 capable graphics cards from ATI, which means that your Boot Camp Windows gaming will be able to kinda handle Crysis. [Kotaku]
If the thought of bringing DirectX 10 functionality to your non-Vista machine sounds enticing, you'll wanna check out the Alky Project. No, it has nothing to do with liquor, but instead it's a project developed by 19-year-old Cody Brocious to bring the DirectX 10 platform (gaming in particular) to Windows XP, Mac and…
AMD has been teasing us with glimpses of ATI's next-gen DirectX 10 video cards, and the latest peek is the most tantalizing. The cards will all fall into the HD 2000-series umbrella (the HD stands for their Avivo HD technology).
If you haven't been able to get your hands on one of those GeForce 8800 GTX cards we've shown you (or if you just can't afford them), you might want to hold off for a bit. Seems like Nvidia's forthcoming G84 and G86 GPUs for the entry level and mid range crowd are on target for a Q1 release. The chips will be…