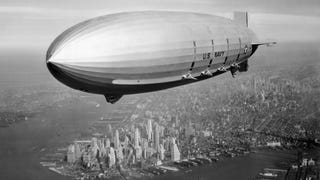 Flying aircraft carriers are a great idea on paper—especially when they're commanded by the likes of Nick Fury—but in reality, they're more death trap than sky island. Or, at least, the short-lived USS Akron was. When it crashed off the New Jersey coast in 1933, it took nearly everybody on board with it.
Low earth orbit is becoming increasingly crowded with satellite traffic and, as Gravity showed us, increasingly treacherous. So rather than try to squeeze yet another spacecraft into the mix, a French consortium has begun development on a super-high altitude, autonomous dirigible that will skim along the edge of the…
All Over Albany recently posted this futuristic illustration of Troy, New York, drawn in 1916. The image shows Troy in the year 2016: the streets lined with streamlined buses and trolleys, the sky filled with giant airships, and a rather phallic-looking building towering over downtown.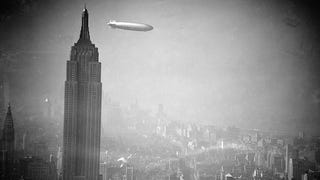 It's been nearly a century since airships floated by the Empire State Building. But now that the aluminum airship of the future is here and almost ready to carry passengers, it's high time that we took a look back to those few decades when majestic zeppelins seemed like the future of travel.
There was once a time when man looked to the skies and expected to see giant balloons rather than airplanes drifting above. The Hindenburg Disaster promptly put an end to those dreams. But nearly a century later, one company may have finally figured out how to build a dirigible suitable for the 21st century. Just…
Who doesn't love airships? Dirigibles, zeppelins and aerostats. They're just so stately and romantic — and, as it turns out, a completely impractical method of transport. To many of us, the airship instantly symbolizes the romance and wonder of past dreams of escaping gravity — and in many cases, the zepplin is also…