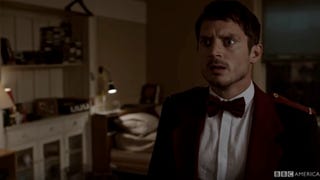 New York Comic Con attendees got to see the first episode of BBC America's Elijah Wood-starring adaptation of Douglas Adams' Dirk Gently's Holistic Detective Agency. Everyone else will have to wait a few weeks, but in the meantime, here's a clip that really captures the odd-couple chemistry of the show's two leads.

We've known since last year that BBC America were working on bringing a new version of Douglas Adam's holistic detective to U.S. shores—but now it's official: BBC America have announced that they've greenlit Dirk Gently for an order of eight episodes.
While Eoin Colfer tries to extend The Hitchhiker's Guide to the Galaxy series past its expiration date, the BBC looks to adapt a different chapter of Douglas Adams' work. Coming to a television near you: Dirk Gently's Holistic Detective Agency.
Some of the greatest battles in science fiction haven't involved dogfights or shoot-outs, but time-traveling smackdowns, with two different people trying to change history out from under each other. Like Marty and Biff, trying to wipe out each other's timelines in this clip from Back To The Future 2. As soon as you…