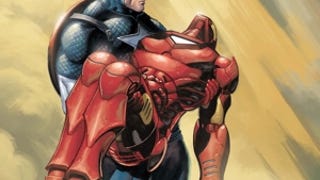 Wondering how important movies are to Marvel? Without an Iron Man or Hulk this summer, profits fell a stunning 60% for the company's 3rd quarter of the year when compared with the same period last year. Should Disney be worried?
Just weeks after Disney's buyout of Marvel was announced, the chairman of Disney Studios is leaving the company, and who happens to be one of the people being named as a possible successor? Kevin Feige, current president of Marvel Studios.
The legal battle between DC Comics and the heirs to co-creator Jerry Siegel now looks like the prelude to a much larger battle over comic book IP: Jack Kirby's heirs now want their rights to, well, the entire Marvel Universe.
Add another name to Disney's ever-growing list of properties. Guillermo del Toro and Disney are teaming up to launch horror cartoon label Double Dare You, and they've already got a film in the works.
We've been eagerly, if anxiously, awaiting news on Disney and Marvel's first combination since the big buy out last week. Turns out the first Disneyfied hero could be Ant-Man, but brought to you by Pixar. But will it be CG?
So, Disney has bought Marvel, but - with both companies claiming that current licensing deals will stay in place - what does this actually mean for both companies (besides awesome comics like this)? We consider some facts.
It's only been a few hours since Disney announced it was buying Marvel Comics, and already the first example of corporate synergy has appeared: MODUCK! But what does the UCK stand for?
It might be the most unexpected, and biggest, news story of the year: Disney have bought Marvel Comics for $4 billion in stock and cash. Good news for shareholders, perhaps, but what does this mean for everyone else?