That overpriced, locked down, long-delayed 30-pin-to-lighting adapter is finally shipping. Sorry, still $30. [MacRumors]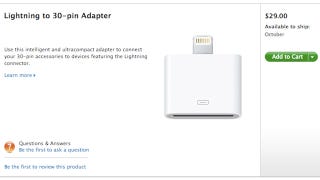 Apple's new dock connector is basically a big old screw job. Sure, it helps make your phone slimmer, and sleeker by saving space. Great, but Apple also wants to charge you $30 for a 30-pin adapter, and it's installed a special chip to make it hard for unauthorized OEMs to produce accessories. As if that weren't bad…
For people like musicians who use more sophisticated 30-pin devices, Apple's switch to a new dock connector could potentially be devastating. Luckily, initial reports indicate much of this hardware will work with the new Lightning connector.
Are you planning to get an iPhone 5? Do you have charge stations set up all over your home, car, and office? If you want to keep your setup intact, you're gonna have to get some of those $30 adapters (or buy new cables altogether). So how many 30-pin-to-Lightning adapters are you going to have to snatch up to maintain…
Standard iPhone charging cables are pretty boring, and they're practically begging to get covered in a layer of gray grime. These snazzy cables are much more fun, it's just too bad they're going to be outdated so soon.
If Apple switches from a 30-pin dock connector to a smaller 19-pin design, as a story by Reuters reports, iPhones and iPads will have a new standard port. This is certain to frustrate some people—namely the huge market base that has purchased billions of dollars worth of licensed chargers and docks. But it has to…
Apple has posted on their jobs pages a job opening at Cupertino for a Connector Design Engineer, which only strengthens the growing speculation that the 30-prong dock connector we've all grown accustomed to is on its way out the door.
Patently Apple has found new iPad design patents from China that show an extra 30-pin dock connector port that'll allow for landscape docking and a mysterious feature which may be Apple's "Smart Bezel Feature".
Zenocom rolled out BluePod, a dongle that fits the iPod dock connector and suddenly gives you a couple of things every iPod is lacking: Bluetooth capability and FM radio. But don't get too excited just yet. The device stops short of greatness, because all it can do is display a Bluetooth-compatible cellphone's…