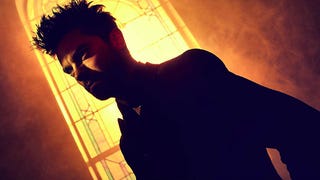 When the first things you see on a TV show about a preacher in Texas are the words "Outer Space," you know you're in for something special. And special is exactly what the first episode of AMC's Preacher is. The long-awaited live-action adaptation of the 1995 comic series by Garth Ennis and Steve Dillon done with…
We're less than a month away from AMC bringing the legendary Garth Ennis/Steve Dillon comic Preacher to the small screen. It's gonna be a slightly different take than you remember, but this giant collection of new photos should make every fan say a prayer of thanks.

From cosmopolitan billionaire to small-town Texas preacher? It's not generally considered a positive move, but it may be for actor Dominic Cooper. Word is the man who plays Tony Stark's father in the Marvel Cinematic Universe and Agent Carter is the top choice to star as Jesse Custer in the Preacher adaptation.