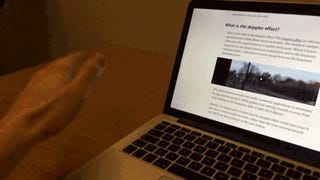 The Doppler effect is a well-documented phenomenon in physics which causes a change in the frequency of a wave as the source moves closer to the observer. It's the science behind satellites and speed cameras alike. And, in the hands of one computer science student, it can make a little magic happen on your computer.
What with today's fancy Doppler radars and forecast graphics and fear mongering, it's refreshing to get a glimpse of the relative simplicity in man's very first attempt at remotely monitoring the shifts in Earth's climate.
The radar guns police use to spot speeding motorists have inspired a version that aims to identify a would-be suicide bomber in a crowd. Here's how it works.
This is a handheld Doppler unit, and it's designed to let you listen to the blood rushing around inside your head. Why would you want to do that? Well, detecting how regular the bloodflow in your head is is how one detects a concussion, so having this on the sidelines of a football field or in a medics pack on a…