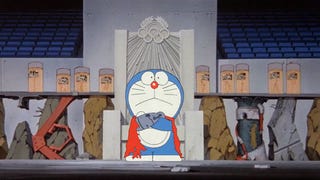 Truth be told, using comic books in the classroom is by no means as unusual or risqué as it might have once been. Nowadays, comics are considered a legitimate teaching tool for any subject. Here are some I've used in class.
Boing Boing Gadgets has six of the hundreds of thousands of gadgets Doraemon—the Japanese anime gadget cat—pulled out of his magic pouch over the years. Above: the Polaroid-esque Voodoo Camera. [Boing Boing Gadgets]
Welcome back to MangoBot, a biweekly column about Asian futurism by TokyoMango blogger Lisa Katayama. My childhood hero was a purple-haired robot who spends all her free time poking poop with a stick. Like all good Japanese children, my formative years were influenced by manga robot heroes-two-dimensional, two-legged…
If you love Doraemon, you will really love this voice activated remote control...controller. Just sync the air pistol up to your remotes and then put the gun on your finger. Every time you say "bang" you can turn on the tv, control the DVD player and more. When not in use, the finger gun rests comfortably on…
Doraemon fans rejoice! The "takekoputa"—a Japanese combination of some word and helicopter—allows you to fly around in a game using only your head. How so? Well, instead of using the controller, you strap on the helecopter and lean forward, back, left or right to control Doraemon as he's flying through the air.
Hey fellow Gizmodo writer, Jason Chen. I'm calling you and your bitchass Doraemon webcam out. Enter the Garfield webcam. This authentic, American (kind of) webcam features that friendly, lasagna-loving cat ready to film your most naughty antics in a crappy 640x480 resolution. It is available for $32 from Brando. I am…
Remember the Doraemon Webcam? It's actually on sale now for $32! Cuteness personified, this Doraemon plush-cam can take VGA stills (640x480) and get 15FPS VGA resolution movies for use with Skype, MSN and other IM clients with video.
Keitai KunKun have developed "smell tones" as the next-gen ringtone. Using the these smell tones, you simply set up the enclosed liquid to hang off your phone. When you get a call or message, instead of a ring, you can get a smell alerting you to pick up your phone. I don't see how this could be useful when your phone…
We're pretty sure that Doraemon is going to invade the earth in his little spaceship and take it over. Wait, has that already happened? It seems every time I turn around, something has become Dorae-ized! Doraemon sofas, Doraemon pillows, Doraemon turds, what's next, webcams that look like Doraemon? Yes! Now in Japan,…
Japan just can't get enough of the nutty blue robot cat known as Doraemon. This time, Doraemon has his new watch which actually looks pretty sleek. This is no ordinary watch, however. This is a data watch. Coming in 64MB or 128MB sizes, and silver or black color schemes, the watch can store all your files, MP3s,…

Begging for an ass kicking from your pals? Grab the Doraephone. Based on the GIGABYTE gx-5 (not to mention the manga comic about a robotic blue cat from the future who has a pocket to the fourth-dimension in his stomach) this phone is decked out in all things annoying. Don't fret though. Even if you do want it, the…