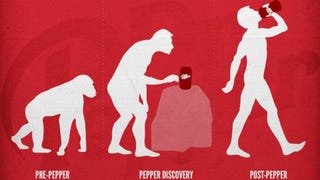 Yesterday afternoon, Dr Pepper posted an image to Facebook depicting human evolution, and now everyone is yelling at one another. This has been a monumental waste of everyone's time. So let's talk about it.
When Dr. Pepper sued Dr. Pepper, we joked that real life was imitating Coke Zero commercials, where a company sues itself as marketing humor. This deal with Dr. Pepper ain't no marketing joke. Dr. Pepper, the parent company, just killed off Dublin Dr. Pepper, the best version of Dr. Pepper there is. What the hell!

The latest installment in the "if dumb people watch, it must be smart" genre—a category that brought us Big Brother, The Real World, Making The Band and David Blaine—is the descriptively named Band In A Bubble, airing tomorrow on MTV. Somehow, we got blueprints of the bubble.