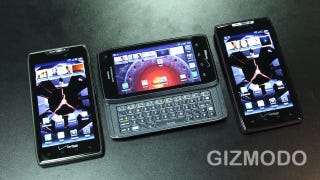 According to a report at Droid Life, the oft-delayed Droid 4 smartphone—the one with the physical, slide-out keyboard—may finally reach store shelves next Tuesday. Citing unnamed sources, DL asserts that the Droid 4 will be released February 9th and retail for $200. [Droid Life via Verge]
Verizon just made the long expected Motorola Droid 4 official today, announcing the slider phone with a 1.2GHz dual-core CPU, 1GB RAM, 4G LTE, 8-megapixel camera, 5-row keyboard and 16GB of memory in its half-inch thick shell.
We've been expecting Motorola's Droid 4 for a while, but now official images and specs have leaked into the wild. And it looks a lot like a bigger version of the recent RAZR.