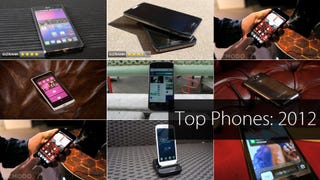 The smartphone market of 2012 has seen some heated competition. The usual contenders all released solid hardware. But the dynamic between them changed, too—Windows Phone arrived as a serious third OS option, and 2012 ended with exciting new models of iPhone and Android devices. Here's a look at the best new products…
AT&T has the One X. Sprint has the EVO 4G LTE. But it's been a long while since Verizon customers had an HTC flagship to call their own.
We just got our hands on the HTC Droid DNA this morning, and our first impressions were very promising. The screen is really, really gorgeous. But, how gorgeous is it when you put it next to the other best smartphones?
HTC's new Droid DNA smartphone has plenty of qualities that make it intriguing. It has a quad-core Snapdragon chipset. It crams a 5-inch display in a body nearly the size of a One X or Galaxy S III. Its Super LCD 3 technology trumps the Super LCD 2 that made the HTC 8x display so lovely. By all accounts it's a…
The HTC One X, the EVO 4G LTE, and the One X+ are among our favorite phones. But the company hasn't had a flagship device for Verizon in a long time. Now, with the Droid DNA, HTC decided to go all out and make the most impressively spec-filled smartphone the world has yet known.