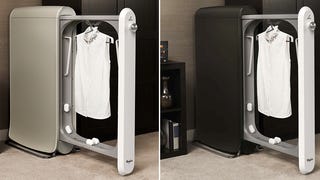 The Swash is being pitched as a sort of personal dry cleaning machine that promises to refresh clothes in just ten minutes. But instead of the toxic chemicals often used at your local dry cleaner, it runs on disposable detergent pods.
For me, dry cleaning has always belonged in a category of miracles, along with color-safe bleach, dry shampoo, and acupuncture. They seem to work, but is it only because we'd like to believe they do? So we decided to take a look past the counter and '80s-style decals to figure out, what is dry cleaning, anyway?
No, this lady has not gone mad. That's not a refrigerator she's putting her jacket in. It's the new LG Tromm Styler and it's a cross between a wardrobe and a dry cleaning machine.