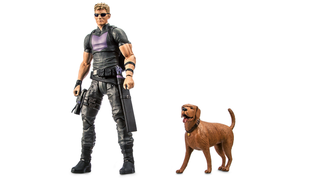 When Matt Fraction and David Aja's strikingly brilliant Hawkeye run began in 2012, it gave us the year's breakout comic character. I am, of course, talking about Pizza Dog, Hawkguy's (or is it Hawkeye's?) canine companion. And now, thanks to Diamond Select, Pizza Dog gets his own figure. Complete with Hawkguy!
It's daylight savings time. And you know what that means. The world goes dark for the foreseeable future. Let's make the best of it, and for this week's Shooting Challenge, let's photograph really dark stuff.
Remember the Daylight Saving Time bug from last year where iPhone alarms were off by one hour? It's back. Hope you weren't counting on your recurring alarm to wake you up this morning. (One-time alarms are still OK).
If you haven't set your clocks forward an hour for Daylight Savings Time, this post is coming from the future! It's also a reminder. Join us up here in the future. There are no roads.
The new daylight saving time rules that Congress passed in 2005 could screw with many of your precious gadgets. DST starts three weeks earlier than last year, on March 11, and ends one week later than before, on November 4. While not pulling a Henny-penny quite yet, analysts are warning people to make sure to grab any…