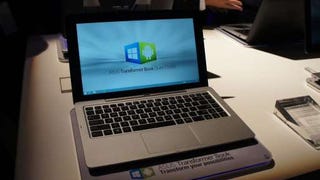 Though just a proof of concept for now, this clip shows the hack-friendly Nokia N900 dual-booting Maemo and Android. It's only a taste, but as the dual-booter Brandon says, "its real and it could be spectacular." [Brandon's Posterous via jkOnTheRun]
Eyeing Windows 7 but feeling left out in Mac land? Well, if you have 10GB to spare and a DVD burner, here's how to join the Win7 party for free with Boot Camp.
Our trusted first cousins at Lifehacker were able to download a copy of the publicly available Beta 2 of Windows Vista last weekend, and in a fine how-to article show you how to dual boot it with Windows XP. How they were ever able to download the file from the zoo that is the Vista download area, we'll never know.…

The prize for creating a method to boot Windows XP on an Intel-based Mac has been won. Contest organizer Colin Nederkoorn announced on his website this morning that the total prize money of $13,854 will be awarded to two California men he referred to as narf and blanka, and added that he has tested the open-source…
Who needs all of that mumbo-jumbo about the Mac Intel dual-boot. It has already been done, easy as pie. All you need is a little tape and you're good to go.
Looks like an intrepid haxor has dumped Vista on a MacBook by fooling Vista into thinking that the MacBook has a BIOS in there somewhere. The instructions are kind of convoluted but we encourage you to try this at home and confirm that it works. No screenshots, unfortunately.
Will you be able to dual-boot Windows XP and OS X? Well, many would agree that the likelihood of booting Windows XP on an Intel Mac is just about as certain as getting laid at the Chicken Ranch. Colin Nederkoorn of Houston, Texas decided to pledge $100 of his own money to anyone who can devise a method to boot…