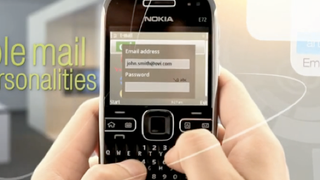 The capable Nokia E71x, not exactly an old phone even by the fast paced renewal process that's inherent in the tech industry, is about to get usurped by the business-class E72, seen here getting handled in a promotional video. Updated.
How AT&T's prospective carriage of the handsome-but-not-beautiful, capable-but-not-amazing Nokia E71x spawned so many rumors and leaks is beyond me, but it's all over now. $99 AR on a two-year contract, available today. [AT&T via Slashphone]
Out of AT&T's six pack of new phones, two got us excited: Nokia's E71x is going to be only $99 (!!!) and Samsung's Impression is the first US phone with an AMOLED screen.
Some Symbian S60 love from AT&T, at last: Boy Genius says Nokia's excellent E71x is landing at AT&T March 24 for $200 after the usual two-year contract dance. It's like a little miracle. [BGR]