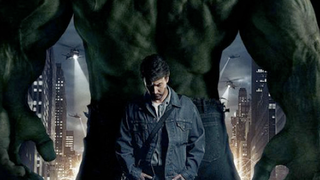 HitFix is reporting that Marvel's going with another actor to portray Bruce Banner in The Avengers instead of prior Hulk Ed Norton. Who? We should hear who's wearing the purple pants come Comic-Con. UPDATE: Norton's definitely out of the running.
It's official: there's no director's cut of The Incredible Hulk coming to DVD, at least not any time soon. Even though star and scriptwriter Ed Norton complained bitterly about all the vital material that was cut from the film, we're not getting to see the version he wanted us to watch. (Instead, there'll be 14…
Click to viewApparently, the Hulk can't help but get smashed at the box office, according to a recent Reuters story. Five years after Ang Lee's psychoanalytic take on the Jade Giant, Ed Norton's remake of The Incredible Hulk is set to be just as (un)successful as its predecessor, dooming the character to guest-spots…
A new Incredible Hulk trailer slowly plays the Hulk goodbye song from the 1970s series, "The Lonely Man," while voice-overing Bruce Banner's sad story. This special trailer is one of the first times we get to see much, if not any, insight into the life of this Banner. Thanks to Edward Norton's refusal to do any press,…
Clearly super-hero season is full on at this point, and the product is already in stores. Hasbro sent us two pairs of $20 Hulk Smash electronic action-sensitive talking fists. These are different from the old ones because a) they're made by Hasbro, not Toy Biz b) are cloth, not foam and c) have one speaker, not two.…
If you were like me, and hated Ang Lee's take on The Incredible Hulk with the burning hatred of a thousand radioactive test-sites, you'd be thrilled to attend the New York Comic Con's Hulk event because it promised something completely different. If you were like me, your brain would have exploded at the results.…
Creative infighting between Edward Norton and Marvel, and weak buzz about the first trailer, have many observers predicting the Incredible Hulk will be the summer's biggest bomb. Even Stan Lee, the Hulk's co-creator, doesn't think it'll do as well as Iron Man, which has supreme buzz and fans drooling over every clip.
WHAT IS THIS? HULK NEW MOVIE TRAILER? OK, let's see... Uhmmm... Not bad. Hulk likes Ed Norton. BUT HULK HATES BANNER! BANNER IS A PUN*oh, there's Liv. Mmmm... HULK LOVES LIV! OK. More things. Yoga? Wait, WHAT'S THIS PUNY ZEN STUFF! AND WHY BANNER FALLS FROM HELICOPTER!? WHAT? HULK DOESN'T HAVE THAT HIPPIE HAIR! HULK…
Sure, we're won't like him when he's angry, but just what is Bruce Banner angry about? According to rumors, it may be an argument over who gets the final cut of the new Incredible Hulk movie that's getting Ed Norton, the new Banner, all hot under the collar and tearing up his purple pants. The feud may even prevent…
The first teaser trailer for the Incredible Hulk movie comes out Wednesday night, and here's a 15-second sneak peek. It's brief, but it does show a brief bit of HULK SMASH! goodness, and Norton comes within a hair's breadth of saying "You wouldn't like me when I'm angry." Check back late on Wednesday for the actual…
Check out this newly-released photo of Ed Norton beginning to Hulk out! Based on what we've seen of this movie, it looks a lot closer to the way Bill Bixby became the Hulk than we would have thought. Hopefully the next picture will feature those creepy green contact lenses. Click through for a bigger image, plus…
Despite the attempts at super top-secret security on movie sets these days (which apparently means drawing as much attention to yourself as possible and then denying everything later) news has leaked out that the Iron Man and The Incredible Hulk crews are teaming up to film a scene together. Versions of that scene…
Ed Norton wears a red hoodie in these new pictures from the set of The Incredible Hulk in Rio De Janeiro. While we haven't seen the big green machine much from this film, it's an interesting twist on the red hulk / green hulk ploy from Marvel.