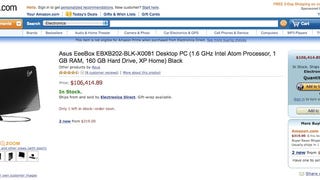 I present to you the crappiest $106,414.89 computer in history. Plus $13.46 shipping. And no Amazon Prime either, what the hell? [Amazon, Thanks Rodrigo!]
In the latest twist of the Eee Keyboard's delay, DigiTimes reports the entertainment-PC-in-a-keyboard should be ready "as early as October". It also says the 20-inch Eee Top AIO, and two new ultra-thin U/UX series notebooks will arrive in September.
We only just learned about the HDMI upgrade to the Asus Eee Box line with the B204 and B206 models, but there's another update coming in the B203: A Celeron instead of Atom.
There was nothing wrong with the Eee Box, a PC not so dissimilar to the Wii, except that it lacked any real reason for existence with processing no more powerful than a netbook.
After the DIY options, and initial hints, official word is out that there'll be a touchscreen Eee PC next year. And that's from none other than the CEO, Jerry Shen, himself. The guys over at Laptopmag got the low-down from Shen, who confirmed the machine will exist by "early 2009," and will actually be running Windows…
This survey, sent to a random sampling of Windows users, seems to indicated that MS is at least thinking of integrating an instant-on mode to Windows. Existing quick-start features like Splashtop, found on the Voodoo Envy, Eee Box and a number of other machines, are usually Linux-based systems that stick their finger…
The other toy Asus brought for us to look at is their upcoming Eee Box, which will launch mid-July in the US. Running on a 1.6GHz Atom processor, it comes in Windows XP and Linux versions, both of which are blissfully cheap: $269 for the base 1GB RAM, 80GB storage Linux model, $299 for XP. Memory and storage are…
Asustek has dropped some details on that Eee Desktop PC EP20 we've seen floating around. First off, it has a more catchy name—the Asus Eee Box.