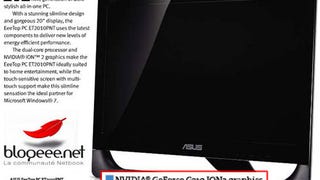 The Asus EeeTop ET2010PNT has officially been espied in a promo shot, and it's apparently packing a multitouch 20-inch (1600x1000) screen and Nvidia Ion 2 graphics. Not too shabby!
I do have to say the voice recognition seems to be on the ball from the video; it is actually impressive when Sascha, the German chap in the vid, butchers the pronunciation of "Kanye West" (around 3:46 in video) and the computer lady still understands it and plays a song.
Who knows if it will work, but Asus wants to put "an end to the keyboard." So a variety of Eee products will roll out with voice recognition capabilities later this year.
Looking for an all-in-one but don't want to pay Apple-level prices? Well, the new Asus EEE Top is now available for preorder in the US.
Asus' long awaited all-in-one touchscreen PC, the Eee Top, is now out in the wild... at least in Taiwan. The 15.6-inch display "nettop" runs Windows XP and holds an Intel Atom N270 processor with 1GB of memory and a 160GB hard disk drive within its chassis. It also comes with a 1.3MP webcam, two integrated 4W…
After the DIY options, and initial hints, official word is out that there'll be a touchscreen Eee PC next year. And that's from none other than the CEO, Jerry Shen, himself. The guys over at Laptopmag got the low-down from Shen, who confirmed the machine will exist by "early 2009," and will actually be running Windows…