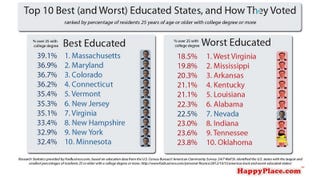 These are—according to Fox Business data—the best and worst educated states in the United States of America, ordered by percentage of residents 25 or older with at least a bachelor's degree in 2011. The table also shows how those states voted. Can you see any pattern?
On Tuesday, President Barack Obama was re-elected, which means, of course, that Mitt Romney lost. But if Romney had won, the president-elect would have needed a website. It makes sense that his staffers would have prepared one. But if the fool who accidentally published it wasn't already out of a job, well, he should…
Twitter is bragging because it didn't go down on Election Day. The info-bloat peaked at 327,452 tweets-per-minute last night, and not a single Fail Whale appeared! High fives all around! Way to... work like you're supposed to.
The right to elect one's public representatives is the foundation upon which our democracy is built. So if you think Hurricane Sandy is going to stop Americans from choosing the next leader of the free world, demand a recount. Here's a look at the technology everyone over 18 can expect to find in a voting booth on…
Tomorrow, livery-cab-hailing service Uber will offer free rides (up to $20.12) to polling places for first-time users.
In 2008, the Obama campaign enlisted the help of Facebook and Google bigwigs to help raise massive sums from a lot of small donors. Back then, the key was just a few pieces of data—today, that data mining effort has been expanded to a huge and very creepy degree.
If Shepard Fairey's iconic HOPE poster featuring a somewhat cartoony interpretation of Barack Obama could sell like hotcakes during the last presidential election, then this Incredible Hulk/Obama action figure created by Ron English should be even more popular this year.
While the Republican candidates have been battling for supremacy in Iowa, the Commander-in-chief has joined the photo-sharing social network Instagram.
Michele Bachmann's easily one of the GOP's most prominent candidates. She also has scientific views from the 15th century, claiming both earthquake '11 and Irene were divine warnings. That's insane. She's not alone. And that's absolutely terrifying.