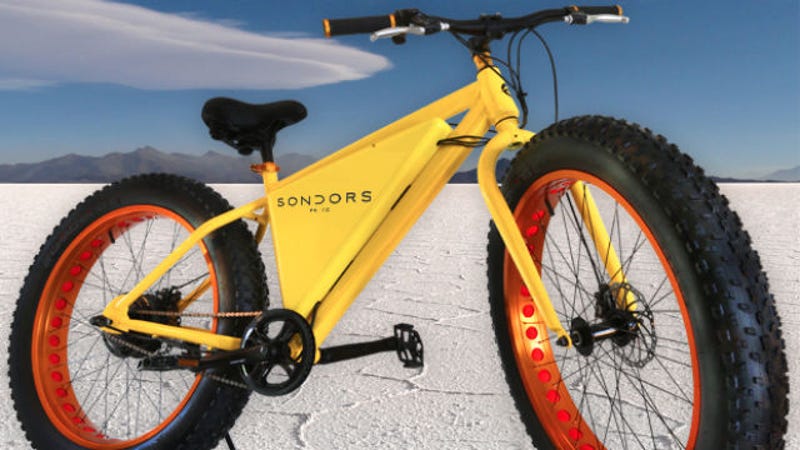 What if you could enjoy the benefits of a bike and the benefits of a car at the same time? Sojourn Labs, a Toronto-based startup, is prototyping a new kind of vehicle built to bridge the gap between bikes and cars, aiming for that happy medium of convenience and safety. The basic idea: A hybrid combining the…
Despite America's ongoing love affair with automobiles, a rapidly growing number of commuters across the country are turning to their two-wheeled transports for both health and economic reasons. This renewed affection has not, however, been extended to their battery-packing cousins, the pedelectric e-bike.
It's usually pretty easy to spot an electric bike coming down the road. Besides the lack of pedaling, they also feature over-sized frames packed with batteries, or bulbous hubs on the side of the wheels for the electric motor. But not Electrolyte's e-bikes. All of the required components—including the battery,…
Brompton, the classic foldable bike, has finally revealed their "Project X" campaign: it's an eBrompton, which is a Brompton bike with an electric motor. And fret not Brompton fans, the motor won't mess with the legendary fold of the bike.
I felt sorry watching the puppet-like "Prince of Wheels" wobbling about on an electric bike for the first time, surrounded by photographers and journalists. Apparently he thought it'd work like a scooter, not realizing he had to pedal. Oh dear. [Evening Standard]
I loved riding about town when testing a GoCycle electric bike, but must admit the cable that snaked around the frame sometimes got in the way of the pedals, if I didn't do it up right. The Shadow Ebike is the first electric bike that houses its Daymak Drive controller in the front wheel, alongside a lithium-ion…
Unlike other electric bikes, the Gocycle is not only small, it's technologically savvy. Combining a low-profile, folding design with an electric motor that will let it go up to 15mph.
Drymer has produced a working three wheeled electric bike prototype, and the way electric bikes go, theirs looks pretty snazzy. The three wheeler, named the v0.5, boasts a motor capable of producing 250 watts, which will reach a maximum speed of 25 km/h. If your face tends to melt at such speeds, purchase with…