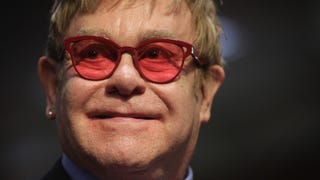 The second Kingsman film, Kingsman: The Golden Circle, is currently filming and in addition to bringing back much of the original cast (alive and dead), filmmakers have just let slip that one of England's favorite sons is also joining the fun: Sir Elton John.
In the Smoky Mountains, where I grew up, bluegrass is a way of life. Every Friday night, about a mile from my house, an abandoned old schoolhouse becomes one big jam session, and sometimes, when the weather is nice, it moves outside under the stars with the moonlight casting shadows onto the red Tennessee dirt.
Forget Elementary — the most out-there version of Sherlock Holmes could be the sequel to last year's most enjoyably ludicrous animated film. Elton John's production company is making a Gnomeo and Juliet sequel, in which the gnomes from the first movie have to enlist the aid of a famous gnome detective to solve the…
We were sad our favorites were snubbed when they handed out the Grammys last night, but at least the monsters ruled the show. Tron outfits, doom squads and Lady Gaga clawed their way to the top. Check out our gallery.
Jane Austen has been Hollywood gold for years now, but when did she become science-fiction platinum as well? Her novels are spawning a startling trifecta of bizarre science fiction films, plus a new fantasy novel.
I know what you want. You want an iPod nano, covered in 250 color-coordinated Swarovski crystals and donning Elton John's signature. Wait, you don't? WELL IT HELPS FIGHT AIDS YOU JERKS! DON'T YOU HATE AIDS???
The best part of any superhuman story is when our fledgling hero, having recently discovered his or her powers, totally has fun with them. Think of Iron Man tinkering with his ever-evolving Mark suit, or Spider-Man figuring out how to web-sling. This morning, in the crystalline blue heavens, Swiss airline pilot Yves…
Hey, it's Friday! And if you're like me, you're heading out to the Karaoke to guzzle $1 PBRs and holler into a super-echoey mic at a crowd of people who (hopefully) are even drunker than you are. But being an enlightened, forward-looking person, what you really want is to bellow a science fiction song into the mic.…
The year is 2199, and you've just entered the long phase of your thirty-year journey to the outer reaches of the galaxy. You're about to enter suspended animation when, oops, something goes wrong. You end up stranded an a decent-sized chunk of asteroid, and thanks to the technology of the future, you have a…
So there's Elton John, sitting in his office, all Writer's Block-ed out, and flipping his Bic biro in despair. He liked the way it moved, "Like a rocket," he thought. "I know, I'll write a song about it and call it Rocket Pen". It was only the return of Bernie Taupin from the kitchen, where he had been making the tea,…