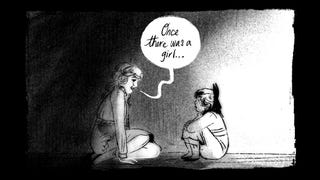 Emily Carroll has won our black, horror-loving hearts with the short and spooky comics she posts on her website and with her recent book, Through the Woods. Now she has a new comic online, just in time to make holiday parties terrifying.
Emily Carroll, one of our favorite horror cartoonists, has a new spooky webcomic story up. Like many of her comics, "When the Darkness Presses" plays with the web format to incredibly creepy effect. Also be sure to check out Carroll's book of horror comics, Through the Woods.
Oh holy hell—Emily Carroll's horror comic collection Through The Woods is so freaking spooky. We absolutely inhaled this book when we got it in our hands. Each little horror comic is so creepy and absolutely gorgeous. It's Scary Stories To Tell In The Dark kinds of fun. And we have an exclusive scary story excerpt…
When it comes to creepy webcomics, nobody makes them like Emily Carroll. In her latest unnerving comic, a girl is lured into a ghost story through a series of fairytale dreams.
If you're looking for a sad and chilling story to read this Halloween, Emily Carroll's webcomic story Out of Skin delivers a fantastically terrible dose of body horror. A woman comes across a pit filled with dead girls who refuse to stay hidden beneath the ground.
There are plenty of epic horror webcomics that pull us through the zombie apocalypse, follow missions with multi-species monster hunters, and track demons both tragic and terrifying. But some horrors are best experienced in bite size. Here are seven scary short stories from the evil minds of webcomickers.