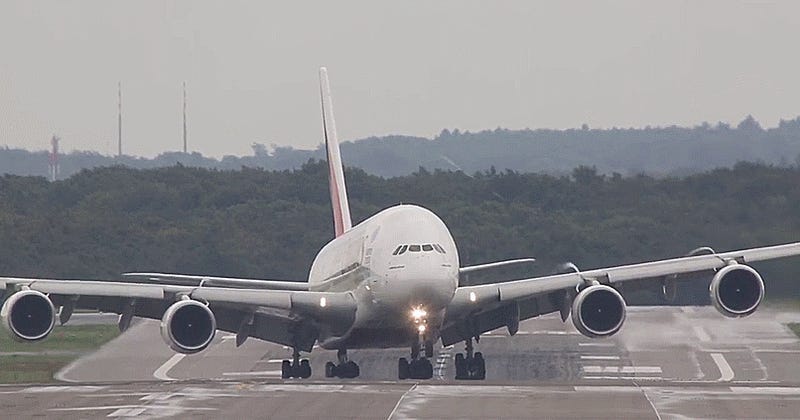 Conditions in Düsseldorf, Germany (DUS) were windy and wet over the weekend, making for a crazy-looking maneuver as this Emirates Airbus A380 (the world's largest passenger airliner) returned to terra firma. Watching the giant aircraft's weight transfer to its wheels somehow actually makes the superjumbo appear small.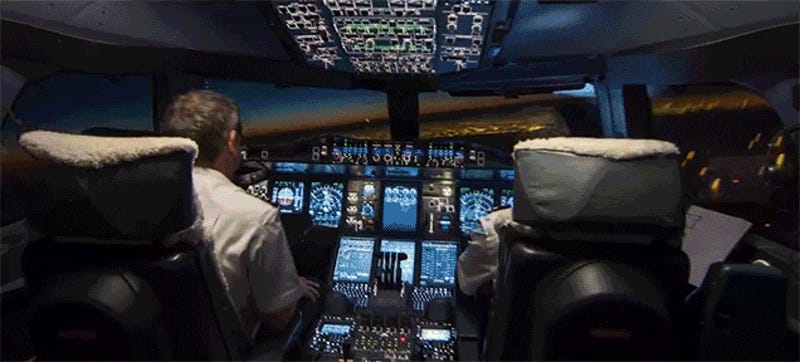 Prominent urban filmmaker Rob Whitworth has created the hyperlapse to end all hyperlapses by taking the idea to the next level. The journey begins high over the colorful city from the flight deck of the world's largest airliner. Dubai Flow Motion is a mesmerizing tour of one of the most unique cityscapes in the…
Want this Montblanc Skeleton pen, shaped like an Emirates A380 plane? Those 28 diamonds, 18-carat gold plating and lure of winning free flights will never be yours—unless you fork-out $19,335 for it. [AMEinfo via Moodiereport via BornRich]
Mary Kirby is one lucky, spoiled Runway Girl: She gets to fly all around the world in the best seats of the best planes. However, she has never experienced anything as amazing as her trip in Emirates' Airbus A380.
Click to viewThis video is a feed from the Tailcam in an A380 as the aircraft takes-off. The cam feed can be shown on the seat-back displays and gives you an almost Superman-like view of the aircraft from 79-feet up at the top of the tail. It's pretty amazing watching the behemoth aircraft surge slowly down the runway…
This is an Airbus A380-the largest passenger aircraft in the world-eaten alive by an Antonov AN-124-the largest mass-produced cargo airplane in the world (which I filmed inside at Dubai's airport). Before you exclaim "Photoshop!", this is a real photo by Dmitry Avdeev. However, it's not a real A380: it's a 1/3 scale…
See that happy-looking lady in the pic? She's standing in an Emirates A380 in-flight shower room, details of which have emerged after we first alerted you to this airborne luxury. The "shower spas" are pretty decently kitted-out, and the aircraft carries an extra 1,100-pounds of water to allow every one of the 14…
Dubai-based airline Emirates has claimed the first ever permitted mobile phone call from a commercial flight. The conversations took place aboard a Casablanca-bound Airbus A340 that had been kitted out with a system that stops cellphones from messing with the plane's electronics. By the end of the year its passengers…