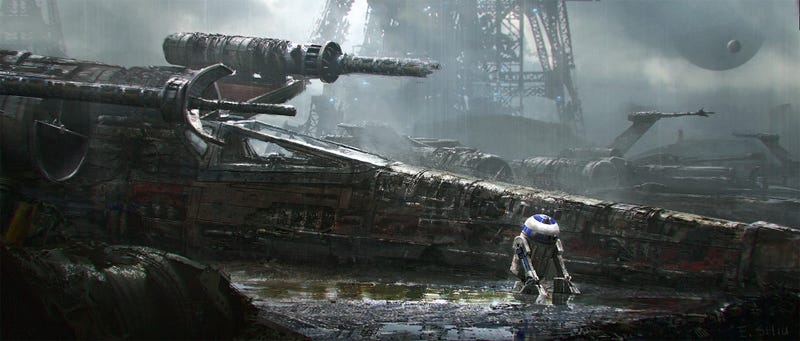 What do you think is happening in this brand new piece of Star Wars fan art? Will that X-wing ever fly again? Will that R2-unit find a friend? This is the work of Emmanuel Shiu (Game of Thrones, Star Trek), whose work we've featured before, and we're stoked to premiere this picture exclusively at io9.
Syfy's adaptation of Arthur C. Clarke's Childhood's End wrapped up earlier this week, and ended with a stunning glimpse of an alien planet. We're excited to premiere some concept art by Emmanuel Shiu illuminates that insane vista, exclusively at io9.
Last night's Game of Thrones had some pretty insane set pieces, and a whole lot of tragedy. But one image in particular stands out in its fierce beauty — and it's another thing entirely to witness it in its full painterly splendor. Check out concept art of the season finale from awesome artist Emmanuel Shiu.
At least, that's what these people are hoping as they descend from the roof into the long deserted hangar, to find vessels that have been overrun by nature. What are the chances these babies can fly again? This artwork by Emanuel Shiu leaves us wondering.
Amazing Spider-Man 2 packed some really intense visuals, and tons of weird science over at OsCorp. Now check out some concept art that shows the designs for the Green Goblin and OsCorp's facilities, courtesy of artist Emmanuel Shiu — exclusively at io9!
The great ships were hive minds, concatenations of thousands of smaller ships that swarmed together so closely you couldn't tell where one ended and another began. They were supposed to be unstoppable, but they had one vulnerability: internal dissent. If you could talk a few ships into separating from the whole, you…
Chances are, you've already marveled at Emmanuel Shiu's stunning concept art before. We've featured his stunning movie and game art before — he's worked on everything from Star Trek to Lost Planet 3. Above is a brand new piece of concept art, which he's premiering at io9. And below is Shiu's explanation of how to…